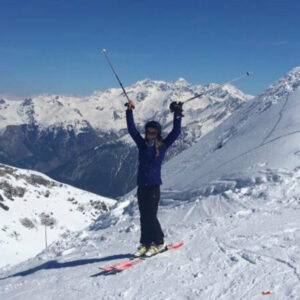 It's that time of year when I like nothing more than heading to the 'pow' to strap some planks to my feet to slide down a mountain wearing obnoxiously loud colours!
Me, like most, am incredibly unprepared for this endurance sport which is why this time of year creates a flurry of clients for us at Reform both pre-ski and sadly post!
The best holiday starts with great prep, and for that I suggest you head over to Beth's blog … but if you haven't prepared fully (as advised), you can at least follow these tips to help you max your time in resort!
Watch your speed! – I know Beth has now got you as fit as a fiddle and you have set up Ski Tracks ready to race the family down the mountain at full speed… Let's pause for a sec.
·       Just remember your skill level, feel in control, staying within your limits and modify your speed according to run colour.
·       High speed, green demons are always the enemy, don't be that guy!
Fatigue:
·       Day 3 Syndrome. It's a thing! This is when you start to feel the burn and the build up of cheese, genepe and DOMS have really got your muscles aching – listen!
o   Resist the first lift and plan a rest morning, a massage and remove your risk of being a part of the 3rd day stat.
·       'Last run of the day' You can't avoid it, but consider:
o   Where you are on the mountain when you start to feel the 'burn' should you start planning your exit route before your wiped? Are you better off sitting in a deck chair in the sun after lunch???
·       Remember to keep BREATHING while tackling your fears on the piste.
o   The number of beginners I have been out with that feel the burn so much more as they are too scared to breathe! Your muscles need that oxygen.
o   Just like in Pilates. Be conscious of your breath.
·       YELL AT YOUR FRIENDS! – Don't be afraid! The beginners get it rough when skiing in a group.
o   By the time they get to the rest of the group waiting half way down a run, they're off! No time to rest! Pull them up on this! The beginners need the rest more!
Beginners: Learn from the BEST-
·       Firstly, if you are a first-time skier, take skiing lessons! I cannot stress the importance of this enough. Even if you are holidaying with experienced skiers there is absolutely no substitute for a trained instructor who can teach you skiing or snowboarding to a high standard.
Never participate alone –
·       Always stay with a buddy – it's really easy to forget between all the melted cheese and rustic charm that you are in an extreme wilderness that can turn tricky very quickly due to weather or a little slip.
·       A recco/ point of contact/working phone is a must particularly going off piste
·       Always have a credit card (the rescue wagon may not take you without one)
·       And ID on you
·       Chocolate bar in pocket!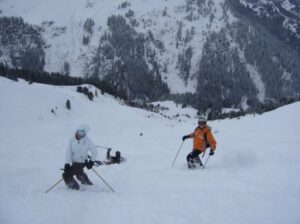 Go easy after lunch –
·       Post-lunch skiing is the peak time for accidents. After you've rested and eaten, your muscles don't fire as quickly, making you less coordinated and more likely to make mistakes.
·       Tackle the more difficult slopes in the morning when you're not as sluggish and the runs are in their best condition
Alcohol –
How I and my fellow students survived my university ski trips is totally beyond me. However, now much older and wiser, here are my thoughts:
·       Studies have shown alcohol increases risk-taking behaviour and reduces coordination increasing the likelihood of injury in skiers.
·       Remember you may still be vulnerable the morning after.
·       Confident you're sober after one beer or glass of wine? Don't forget that high altitudes magnify the effects of alcohol. Your baseline will have changed.
·       You wouldn't drink and drive!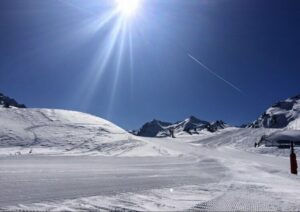 Après –
Après can be good for you! Having a boogie after a day of being hunched over in fear while throwing yourself down the mountain is a great way to balance out all that fight-or-flight cortisol build up!
Here are some tips:
·       Shoes:
o   Can you fit après footwear in your backpack? Yes, I take this seriously!! You are high risk of going 'a' over 't' at après due to slidey boots on icy wooden decking or down the helter-skelter to the loo. Be careful!
·       Plan the home run – is it icy? Dark? Can you catch the lift/bus? Don't drink and drive! Should you drink and ski??
·       Remember you will be dehydrated – Get some water on board – you will thank me on the first lift tomorrow.
·       Hardly anything good happens in resort after 7pm. (15year old me NEVER believed it, but it's true) post après, bath, dinner and bed is the best thing you can do to prep for fresh tracks and the first lift!
Insurance –
·       I am not an expert. But here are some tips to look out for so if the worse happens, they can look after you:
o   Check they cover skiing/boarding/tobogganing/ski blading (I'm judging you!) / sledging / ski-biking / Ice skating or whatever else you actually plan to do on your trip. For a lot of travel insurance this is an extra add on.
o   Check that they cover you both on and OFF Piste!!
o   Check that they cover a helicopter and the 'blood wagon' off the mountain (many only over once you get to hospital)
o   When you buy your ski pass, ask about the insurance cover the resort provides to get you off the mountain. This gets you off AS FAST AS POSSIBLE in most resorts.
o   MOST INSURANCE IS VOID IF YOU ARE DRUNK (Sorry, buzz kill. But just to point it out.)
o   They only cover you if the lifts are open (Post après ski down… careful, you're probs uninsured.)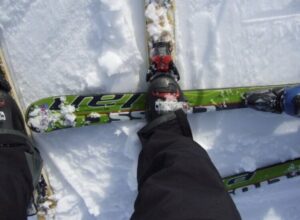 Kit list – It's hard to travel light! From a physio point of view, I would like you to respect your kit. Take the time to get your equipment fitted well by experts, for your safety and comfort. If you are in pain you are more likely to crash!
 My top tips:
·       Ski fittings:
o   BE HONEST! 1) About your weight– it's the difference between your skis randomly coming off and potentially a failed release resulting in your body bearing the brunt instead! It is this twisting action and force that causes most knee injuries while skiing – check the scales!
o   2) About your ability – Your kit will be fitted and suitable for your proficiency level. The wrong type of skis/board may make your day much tougher!
Beginners are more vulnerable to injury due to the 'snowplough' position. This places particular stress on the medial collateral ligament and requires huge quadriceps strength in order to turn and maintain stability, when the skis are held wide, it's difficult to apply full control down each leg.

Remember to test heel and toe release of your bindings before leaving the rental shop.
o   If you have your own kit, try and have them serviced before your trip.
·       Ski Poles:
o   Height is important so that you are not straining up into your shoulders or hunching over to reach the poles.
o   20% of ski injuries are 'Skiers thumb' where the thumb ligaments are damaged by keeping hold of the pole in a fall. To protect my thumbs I don't put my hands into the pole straps unless skiing in deep snow.
·       Wrist Guards:
o   I highly recommend these to boarders, especially if you are a beginner! You will constantly be pushing yourself up… it's worth it I promise!
·       HELMET!!
o   Head injuries are the most common admittance in alpine hospitals during ski seasons and the risk of a catastrophic head injury is reduced by 60% in skiers/boarders when a helmet is worn (Sulheim et al, 2006).
o   It keeps you warm and toasty as well as saving your life… and there is always a pocket-sized dry shampoo and comb solution for the 'helmet hair' disaster at lunch time!
·       Layer up:
o   We can't prepare for the ever-changing weather conditions, but check the weather report daily, avalanche risks etc. With this in mind having the right kit will make a big difference to your enjoyment of the day and staying safe!
o   I recommend you wear several layers of loose, light and water-resistant clothing, to accommodate to your bodies constantly changing temperature. As well as gloves to keep those hands warm, obvs!
o   I love a Turtle/Snood to keep my neck warm. Also, when the wind picks up, you can put it over your mouth and nose to prevent frost bite. (First timers – yes, frost bite!)
o   Note: Studies have shown that you are more likely to get injured on colder days.
If you're injured, wait for help –
·       If you do take a tumble and feel any significant pain then don't try and ski to the end of the run.
·       Be patient and wait for the help to come to you. This is why we recommend skiing with at least a buddy and looking out for each other.
·       When you're back in the UK, come and see us if you're still feeling pain. Even if you didn't have any accidents, any pain, especially in the knee/shoulder, could be caused by an underlying injury that needs to be treated.
Skiiing is safer than you think!
Don't be put off by all the safety tips above. The realty is around 1.8 million Britons will hit the ski slopes this season.
·       The experts suggest that there are 3 skiing injuries in every 1,000 skier days and 4-16 snowboarding injuries in every 1,000 snowboarder days.
·       This equates to skiing every day for three years continuously and only getting one injury!
I hope you all have a wonderful time in the beautiful mountains, finally please take in and enjoy these exceptional environments and try to remember we are visitors. Respect the mountains!
We hope to ONLY see you for a massage or Pilates when you're back!