For at least the past 7 years, I have worked as a massage therapist at the end of the London Marathon, but my engagement with the event has been much longer.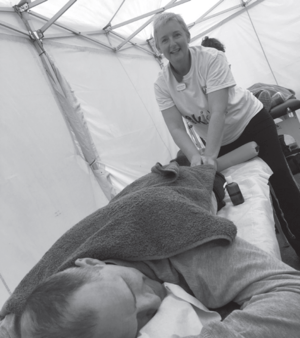 The first London Marathon took place on 29th March 1981 – and I was there watching it from the London pavements with my family. I was only fourteen years old, but it obviously had a lasting effect on me and my younger brother Andrew who was only nine at the time. We went every year to watch it after that.
 Fast-forward to 1986, and I was then training to be a nurse right next to the finish line. That year, I was working in the Accident and Emergency Department at St Thomas' Hospital. I remember it being a bit busy, but not as bad as we had anticipated! 1988 saw me volunteering with St John's Ambulance as part of my Duke of Edinburgh's award scheme (I successfully got my Gold Award in part thanks to this). I remember lots of runners getting cramps and massaging and stretching their legs – a sign of things to come.
 In 2011, I finally got around, first to studying on a holistic massage course, followed by training with LSSM to become a sports massage therapist. During this time, I volunteered as one of many students supporting charities with massaging their fundraising runners at the London marathon finish. Once qualified, I became a team leader, and that is what I have been doing ever since. Having both my nursing background (I still work as a nurse too) and massage experience definitely makes this role easier. I also really enjoy supporting new massage therapists into their first foray of event work. My hopes of ever running a marathon myself went with my knees back in my 20's, but that has not stopped me doing marathons in other ways. I used to be a guide for charity treks on such events as the Great Wall of China, the Sahara Desert, Machu Picchu, etc. and then discovered sports involving sitting down – so I have completed kayak marathons on the sea and the Thames as well as the Ride London 100 cycling event.
Now, fast-forward to 2019. My brother Andrew had not given up on his dream of running the marathon and he gained a place with PhabKids for this year's event. I duly signed up to volunteer for them and avidly watched his progress throughout the gruelling training.
Anyone who runs a marathon will know that it is the hours and hours of training that count – and he put every one of them in.
In early April, the ISRM teams were announced and my usual role of supporting new massage therapists began. Whilst Dan was the PhabKids Team Leader, I'd offered to help the new ISRM trainees. A flurry of WhatsApp messages soon followed and concerns allayed. I think it's easy to forget how daunting your first event is, yet it is so rewarding.
On the day itself I had an earlier start than usual. I have the bonus of living in London but I had to drop off my couch and kit at the finish venue extra early this year. Then I abandoned my post (as kindly agreed with Janine from the charity!) and headed to mile 7.5 at Deptford Creek. As I saw Andrew running towards me I realised that he was achieving his life-long dream. After a quick hug, he was back on his way for the rest of the journey.
It took an excruciating 2.5 hours to get back to St James' Park (it had only taken 40 minutes to get there!). However, I made it back in time to meet the rest of the team and before any of the runners (but not in time for the team photo – sorry!).
Various members of my family were on the route and sent me updates throughout the afternoon and Andrew made it across the finish line and onto my couch. Like most runners this year, he found it a hard run on the day despite the reasonable conditions (anyone know why?). He said "never again" and then signed up for the 2020 ballot the next day!
So, 38 years later, Andrew ran the London Marathon, and just being a part of that journey has been amazing, which is why I'll be signing on again to be a massage therapist next year.